I've been Camping.
I've been Camping.
We're slowly getting back to some sort of normal after the Lockdown.
I'm back at work now and have been for the past two weeks. 

On the 17th July, I went up to Edale. Camping in the 9×9 Command Post Tent right in the middle of the Peak District. A few of us went to a place called Waterside Farm Camping Site and very nice it was too. Met up with a few old and new friends.
Chickens running loose didn't help with me having my dogs there. The dogs want to chase the chickens, so I had to either keep them locked up in the Landy or out on a lead. Having sheep in adjacent fields meant I couldn't take the dogs for a great run around. However, there was just one small field next door to us, to which I could just walk over and let the doggies have a run. One thing that did annoy me was a Freight Train running nearby at all hours, day and night.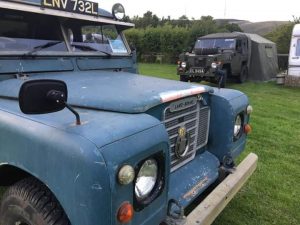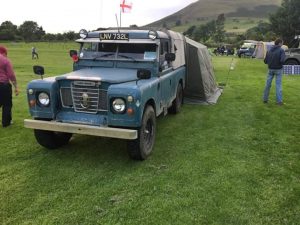 Many photos were taken and not just by me. Some of these that you can see here were taken by the folk there. It was good to see a fair few 9×9's, also of which were attached to the vehicles. Normally, when I get away for a bit of camping, I finish up being the only one with a Landy attached to a Tent.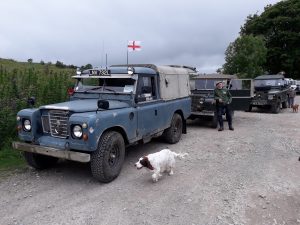 Getting out on a Green Lane is what these weekends away are really all about. No good just sitting around on the campsite. However, there are a few that would rather do this for one reason or another. I can be age (getting too old) or just plain not wanting to go. Some like to stay and catch up with others staying back at camp also. For me though, I normally jump at the chance to get out. The doggies like to be with me and they enjoy the trip out, especially when we stop for short breaks to make a brew or just admire the view. The Doggies can get out then and have a run about and explore somewhere new. 
Sapphire has been on many a trip out and just loves to go out in the Landy. She's been doing this since she was a mere pup. She was born into my hands and the Landy and I is all she knows. Totally obedient and comes back to me when she's called. However, we have Dolly and she is just a year old. Not so good on the recall, but she is learning.